Sheffield Credit Union specialise in personal loans of up to £5,000. We offer a great range of personal loan products to suit your circumstances, with loans now available up to £10,000 at low interest rates and without you needing to save first.
Here's why we are different…
If you apply directly to Sheffield Credit Union, your loan decision will always be made by a real life person.
We never decline someone just because they have a low credit score.
If your application is approved, we will always try to offer you the cheapest product that you are eligible for, or give you options if there is a choice. We will also recommend ways that you can obtain even cheaper loans from us in the future.
When we reduced (yes reduced!) the interest rates on two of our loan products, we didn't just offer the new rate on new applications – we spent a couple of days adjusting the rates for the members who already had one of those loans outstanding too.
As you make your loan repayments on time, we report that information back to Credit Reference Agencies like Experian, helping you to improve your credit record.
We a great range of personal loan products for you to choose from, each with unique benefits
All of our personal loans are subject to affordability and credit checks.
*eligible savings are savings that have been built up consistently over at least 12 weeks.
Any Purpose Considered
We will consider a loan for any personal loan purpose. Please note we do not consider applications for business loans.
Low Rates
Our interest rates are designed to be some of the best rates on the high street.  We have always been one of the cheapest suppliers of loans under £2,000.  Now with our Payroll and Home-Owner Loans we are also taking on the high street banks on loans of up to £5,000!
No Fees
It costs you nothing to apply once you are a member and have paid the small one-off joining fee.
No loan arrangement fees or set-up costs.
No Early Repayment Charges
No hidden costs or penalties for early repayment
Save interest by making additional payments with no penalties
Easy to Apply
Our application process is simple and straightforward. If you haven't already signed up for our Online Services, what are you waiting for?
Need help?
Our friendly and knowledgeable staff can help you through every step of the process – why not contact us?
Still Deciding?
Why not see which of our great loans you may be eligible for, or use the loan calculators to see how little interest you would pay compared with other lenders?
For those looking for a larger loan, why not see how our Homeowner Loans compare to the other high-street options in the example below? This example is based on you borrowing £4,000 over 36 months with one of our Homeowner loans.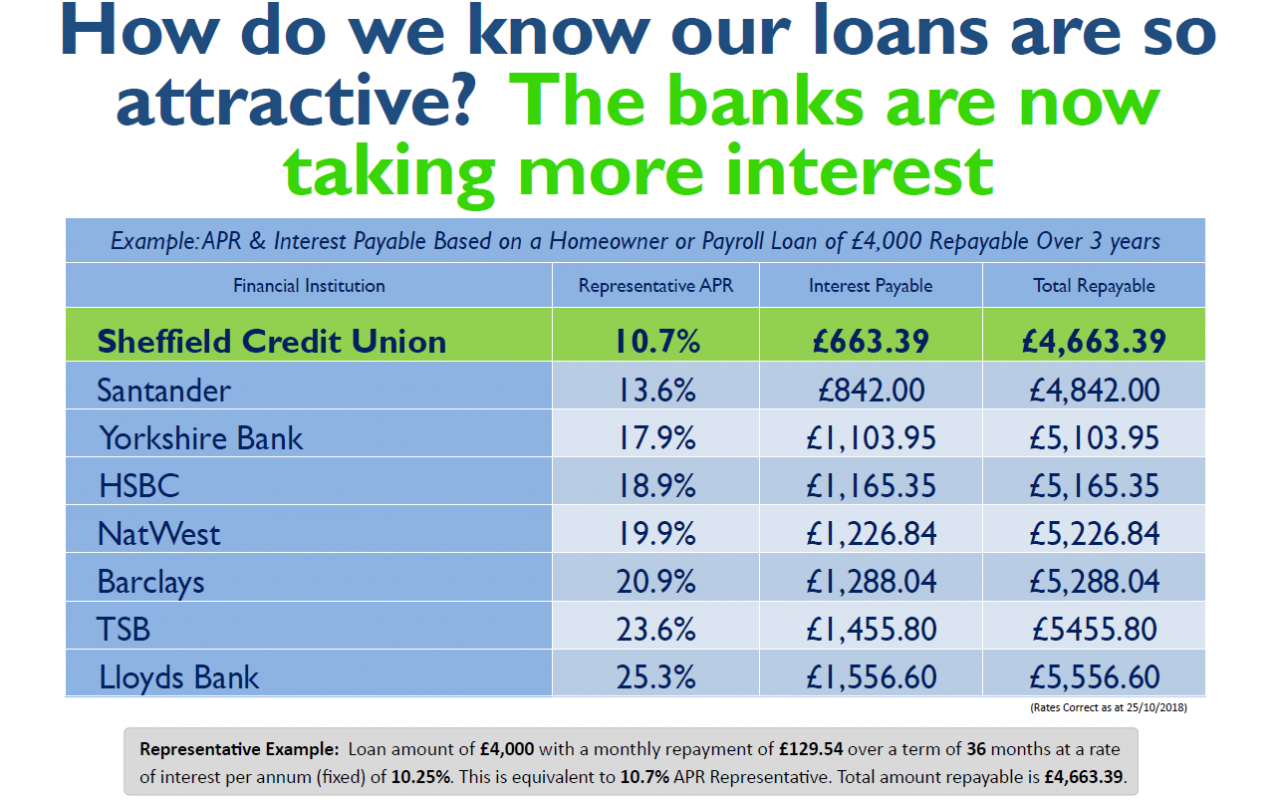 (click image to enlarge)
All loans are provided subject to status and affordability. Please be aware that you may pay more interest and be subject to additional charges if your loan repayments are not received on time. Repayments are reported to Credit Reference Agencies including Experian which could affect your credit record if you do not keep up to date with your repayments.