Homeowner Loans are for those who own their own home (either owned out-right or mortgaged) and wish to borrow from £1,000 to £10,000 for any personal loan purpose.
Our competitive interest rates mean we are are a good way to finance that new conservatory, car, or that family holiday you have always dreamed of.
Features:
Apply for £1,000 to £10,000
Apply as soon as you become a member
Spread your repayments over up to 5 years
17.5% APR on loans of £1,000 to £2,999
APR reduced to 10.7% on loans of £3,000 or over
Interest payable on declining balance – meaning you pay less if you make your repayments on time
No loan arrangement fees or set-up costs
No early repayment fees if you want to settle the loan early
Minimum 26 weeks / 6 months of repayments before able to apply for a top-up
Option to save while you repay
Eligibility:
You can apply for this loan if:
You have joined as a member of Sheffield Credit Union (or were a Rothersave member)
You are a homeowner
You are not currently in an IVA
You have not had a Debt Relief Order or Bankruptcy Order within the last 2 years
Our Homeowner Loans are subject to a good credit record, affordability check and proof of home-ownership status
Homeowner Loan Calculator Apply for a loan
Sample rates for our Homeowner or Payroll Loans are given in the table below. These great rates are only available when you apply directly to Sheffield Credit Union in branch or via our website.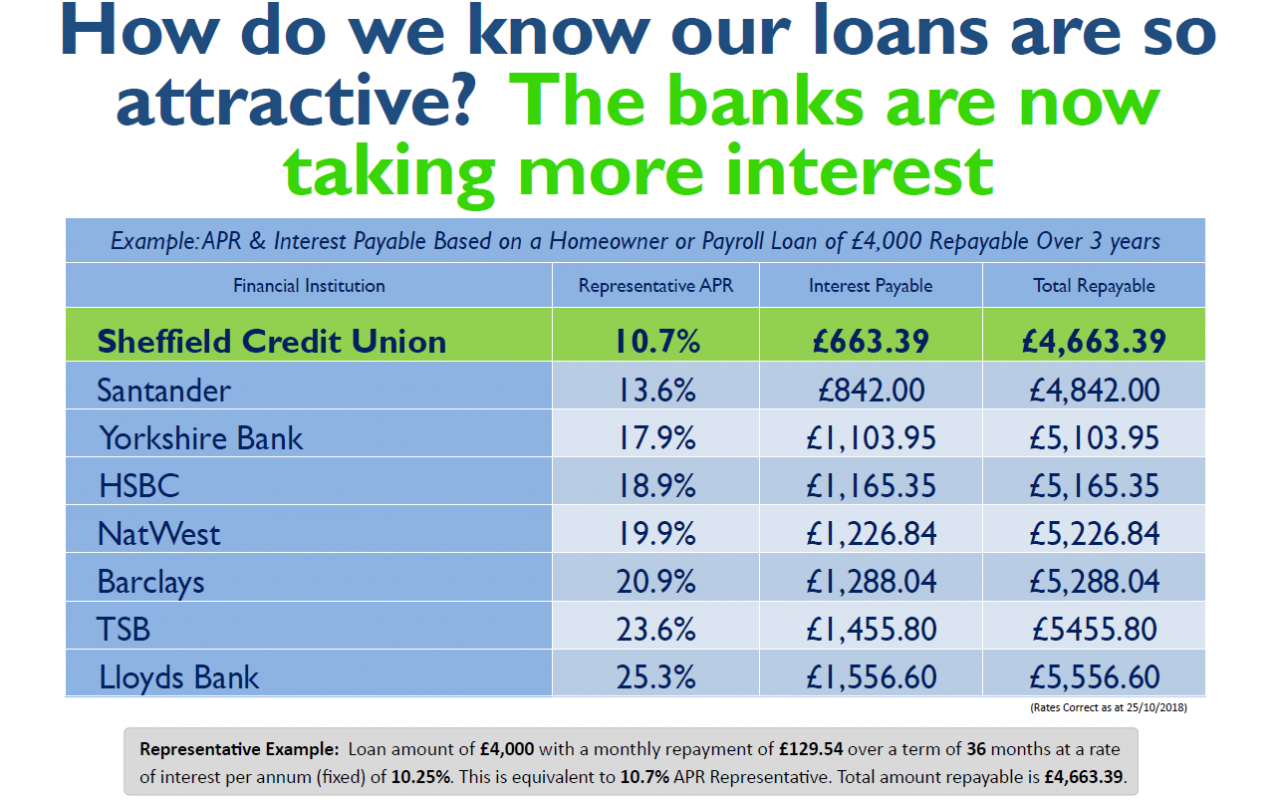 (click image to enlarge)
All loans are provided subject to status and affordability. Please be aware that you may pay more interest and be subject to additional charges if your loan repayments are not received on time. Repayments are reported to Credit Reference Agencies including Experian which could affect your credit record if you do not keep up to date with your repayments.