Applying for our personal loans is quick and easy.
If you are already a member of Sheffield Credit Union you can apply for a personal loan online 24/7. Not a member yet? You can join and apply for a loan at the same time on the link below.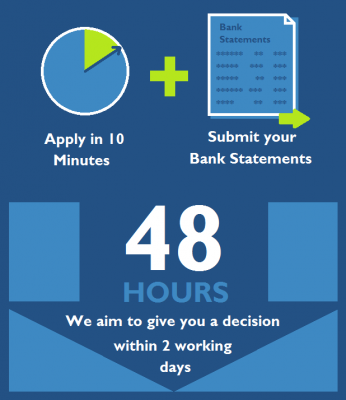 Apply for a Loan Online: (click here after reading the information below)
It will take around 10 minutes to complete your loan application and once you have finished you will just need to send us your bank statements so that we can begin assessing your application.
If this is your first loan with us (or if you have not had a loan in the last 2 years) we will require your most recent 3 months bank statements and proof of any other income which you have stated which doesn't show on your bank statements.
For members who have had a loan from us (including loans from Rothersave) in the last 2 years, we just require your last full month of bank statements along with proof of any income not shown on your statements.
You can submit your bank statements by email, or by dropping them in to one of our branches.
Please read the below information before applying for a loan online.
What Else Should You Know?
Before you apply you should make sure you have read guide to how we use data and share it with Credit Reference Agencies such as Experian,  which is available here. This document contains links to the full CRAIN guide.
We also request that you read our updated Privacy Policy, so you know how we process your personal data.
If you are happy with the conditions described in these documents, submit your application to us with your bank statements and any additional proof of income.
All loans are provided subject to status and affordability. Please be aware that you may pay more interest and be subject to additional charges if your loan repayments are not received on time. Repayments are reported to Credit Reference Agencies including Experian which could affect your credit record if you do not keep up to date with your repayments.
What Happens Next?
Once we have received your application and bank statements, we will text to you let you know when we expect to have a decision for you.
We can then begin to process your application. We will conduct a basic credit check, and also check your finances to make sure that a loan would be affordable at this time.
When we have made a decision on your application, we will contact you to let you know. If you have a preferred contact method please enter this on your application form and where possible we will contact you using that method.
Responsible Lending
At Sheffield Credit Union we are committed to responsible lending. This means we will only approve a loan once we are as sure as we can be that the repayments will be affordable for you, and that taking the loan will not put you in a worse financial position.
Part of our commitment to responsible lending is verifying your income and expenditure, so we may occasionally ask for additional information if we can't find all the information we need from your credit check and bank statements.
Require Further Assistance?
If you need any help filling out the form or have any questions, our friendly and helpful staff will be on hand to assist you – just contact us and we will talk with you about your needs.
Click here to apply for a loan online.
Other Ways to Apply for a Loan:
If you would rather apply using one of our paper application forms you can download one from the forms page, ring us to request one, or pick one up from any of our branches or information points.
Once you have filled out the loan application form you will need to submit it along with your bank statements and proof of income.